Glory & Co.
Kara
black & white Silkie sow
by G&CC Kaslo
out of G&CC Chilaili
DOB: 03 February 2006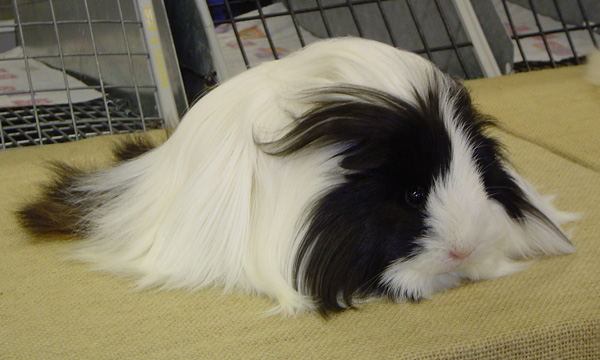 Shown at 5 months
Plusses: Very good density, texture, type, size, and colour.
To work on: NOTHING! This little lass is phenomenal!
Kara is an absolutely amazing little Silkie sow - I really wasn't impressed with her as a nursling ... then at 5.5 weeks I pulled her out for one last evaluation before I decided for sure to sell her - and voi la! her density has come in absolutely incredibly. I can't wait to show this gal!
01 July 2006: Kara is now nearly 5 months old and I just can't say enough about her. She is absolutely amazing and I have nothing to fault her on. She now has 4 grand champ legs and two honourable mentions; I hope that as she gets older she continues to shine on the show table.
Show Time!
Kara's first show was April 22nd, 2006. She took Best Jr. / Breed in both shows (classes of ~ 5) (comments of "excellent density:))

And the winning continues ...
WCF 06.20.06: Sub-Reserve in Show! - GC leg #1 - judge Roy Culver noted "The density on this animal is unreal." Awesome. :o)
WSRBA 06.24.06A: ROB; Best Int./Breed
WSRBA 06.24.06B: BOB - GC leg #2
WSRBA 06.25.06A: BOSB; Best Int./Breed GC leg #3
WSRBA 06.25.06A: BOSB; Best Int./Breed GC leg #4
NWRCBA 07.08.06: BOB (4 in class)
AK State Convention 07.15.06A: BOB, Sub-Reserve in Show, GC leg #5
AK State Convention 07.15.06B: BOB, GC leg #6
AK State Convention 07.15.06C: BOSB to caviary mate G&CC Christopher, GC leg #7
AK State Convention 07.16.06D: BOB, Sub-Reserve in Show, GC leg #8
AK State Convention 07.16.06E: BOB, GC leg #9
AK State Convention 07.16.06F: BOSB to caviary mate G&CC Christopher, GC leg #10
OCBS Summer Show 08.05.06: BOB, BEST IN SHOW! :o) GC leg #11
NCCBA Cashiers, NC Show 08.12.06: BOSB, GC leg #12


11 weeks

12 hours of age (far left)