Glory & Co.
Christa
golden agouti & white silkie sow
by champ G&CC Christopher (8 g.c. legs) (Jasper X Chimalis)
out of champ G&CC Kara (14 g.c. legs) (Kaslo X Chilaili)
DOB: 20 January 2007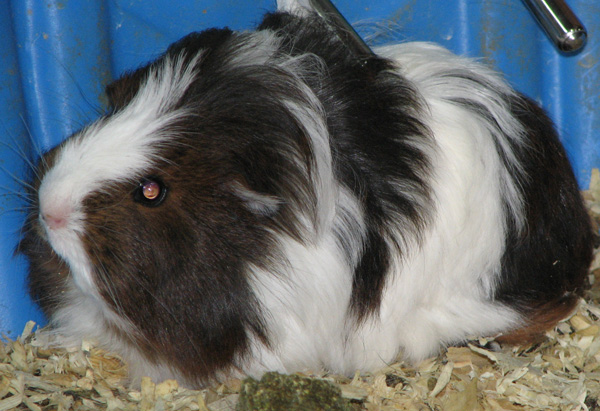 Shown at 9 weeks - YES, she has the kiddie pool all to herself right now! she loves running laps!
Christa is the result of a "vague" linebreeding - Kara is the niece of Christopher. Kara and Christopher both encompass what I think are the best Silkies I have ever bred - so I was incredibly excited to breed them together since Kara was about 6 weeks old. ;o) The long-awaited result is EXACTLY what I was hoping for - two absolutely gorgeous Silkie sows that remind me very much of both of their parents. Caroline favors Kara while Christa favors Christopher; but both girls are just beautiful and I could rave about them for ages. Meanwhile, I had tentatively decided to retire Kara - but am debating repeating this breeding one more time! We hope to show Christa some this spring and summer.